News
Kitchen Cleaning- Maintain The Highest Standards Of Hygiene - 2015-09-15 12:39:56
When you are running a commercial catering service or a restaurant, you have to be very specific about the cleanliness of your entity. One of the most important aspects of a restaurant is the kitchen. Cleanliness of the kitchen as well as the overall restaurant is the main factor, which either can make a restaurant successful or can even decline its sales largely.
A restaurant kitchen should be clean and tidy in order to meet the food hygiene standards. For this reason, several organizations are making it a point to thoroughly clean their cooking station as it goes a long way in maintaining the standards of hygiene. One should look for different ways to clean up their kitchen, as accumulation of contaminants, such as grease, dirt and bacteria is a very common thing in a commercial setting.
With time, such contamination is inevitably jammed into the nooks and corners of a commercial kitchen like behind the work units, on the ceilings and the walls and canopies. These places are hard to reach and are not cleaned frequently but you can easily address this expected build up by hiring a professional cleaning agency who will provide you with regular schedules of kitchen deep cleaning,extraction system maintenance,filter system or ventilation maintenance and canopy fabrication. With their efficient knowledge, tools and experience you will surely get all the areas neat and clean that cannot be cleaned on a regular basis.
The kitchen of a restaurant should be kept clean by incorporating kitchen deep cleaning processes by a professional agency in order to reduce the risk of contagion from the various harmful bacteria as well as infections caused by pests into the kitchen areas. This is necessary so that a restaurant can improve its reputation as well as client image by maintaining the highest standards of hygiene. The staffs of such restaurants are also motivated to work on the aspects of kitchen management and hygiene management.
Kitchen deep cleaning is done through a variety of means like the use of wet and dry steam cleaners, non-caustic detergents, hot water pressure washer, use of specialist manual hand tool and dry and wet vacuum systems. As extraction filters are not enough to deal with the grease formed out of commercial cooking, maintenance programmes scheduled at regular intervals by expert cleaners are crucial in the sector of kitchen cleaning.
Kitchen extraction systems should be used to get incredible results in removing greasy residues from the surfaces of the kitchen equipments. Such build-ups can cause great destructions and be a fire hazard. Professional cleaning agencies make it a point that you do not fall as victim of any mishaps caused due to lack of proper ventilation. Another aspect of ventilation maintenance is proper air conditioning maintenance.
A properly organized schedule will let you know whether the ventilation and heating system is working in a sound manner or not. Only a professional agency can help you with this, which will meet all your needs as well as the relevant regulations. By regular ventilation maintenance, chances of frequent tripping of the air conditioning would be much less than before. This will contribute in forming a comfortable environment for all your staffs as well as your customers.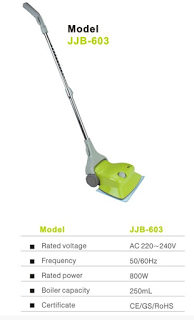 Product Description:
Home Steam Cleaner,Steam cleaners,Steam mop,
Carpet cleaner,Electric brooms,Floor cleaning